Happy summer! Here's what we've been working on in the MPublishing office during the month of June.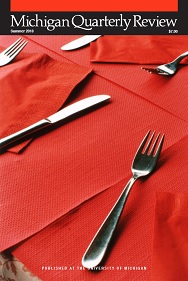 The last issue of 2011 for Michigan Quarterly Review was made freely available. Volume 50, Issue 4 features poetry from Randy Blasing, Todd Boss, Martha Collins, Rick Hilles, Patricia Hooper, and Joe Wilkins and fiction by Peter Ho Davies, Massa Makan Diabaté, Janis Hubschman, Lia Silver, and Jonathan Strong. Issue 4 also features Elizabeth Alexander on black experimental poetry, Marian Crotty on the borderline lover, Ilan Stavans on immigration and authenticity, James Morrison on Jonathan Strong, and Laurence Goldstein on Philip Levine.
Philosopher's Imprint, the free online philosophy journal, released two new articles in June: its 100th article,  "Inner and Outer Truth by Iris Einheuser, and "What do We Say When We Say How or What We Feel?" by Berit Brogaard.
Issue 38.1 of Feminist Studies. The Spring 2012 issue includes a variety of original articles, essays, poetry, a memoir, and a short story. Feminist Studies is available in its entirety to subscribers, but anyone can search or browse the journal and purchase PDFs of individual articles.
 Michigan Family Review released Volume 16. This journal publishes one thematic issue per year, with this year's issue focusing on adoption–from social factors predicting women's consideration of adoption to emotional themes within international adoption children's books.
 The Journal of Anthropological Research published issue 68.2. This issue features over 20 book reviews, in addition to four new articles. This publication is available in full to subscribers only, but anyone may search the journal archive, view results, and purchase individual articles as PDFs.
 The International Computer Music Conference released its 2011 Proceedings. The ICMC interweaves peer-reviewed paper presentations with concerts of new computer music, creating a synthesis of science, technology, and the art of music. Each ICMC produces a Concert Program and Proceedings. The Proceedings is the collection of peer-reviewed papers and studio reports presented at each ICMC.
 Nineteen new and updated articles in ARKIVOC, the free online journal for organic chemistry.